Year Released: 2018
Directed by: John Krasinski
Starring: Emily Blunt, John Krasinski,
(PG-13, 90 min.)
Genre: Drama, Horror, Mystery and Suspense
We've all become too jaded by high tech special effects, so don't expect to be scared to death by this "horror" film. But you will definitely be intrigued and even mesmerized.
Here is a quick summary of the plot:
In the modern horror thriller A QUIET PLACE, a family of four must navigate their lives in silence after mysterious creatures that hunt by sound threaten their survival. If they hear you, they hunt you.
Instead of horror, probably my least favorite genre, I would classify this as another film spin on the end of the world doomsday cult: Dystopia and man's struggle with loneliness and despair. Here are a few of those doomsday films along with what Different Drummer thought about each one:
Oh no, another end of the world flick! Fortunately, this one has three things going for it: Will Smith's outstanding performance, a well-chosen wealth of detail, and some powerful insights on the nature of man.
It is an adrenaline rush, pure and simple, not a whit concerned with the what and why for's, or tactics to defeat the beast and save the world. Cloverfieldis a fox-eyed version of the hunt, terrifying and thrilling, with a heart in the mouth desperation and an outcome almost as inevitable.
Eye-popping special effects, the cerebral mystery of science fiction, and the frenetic action of a thriller, all tied together with the philosophical musings of Nicolas Cage. You're either going to despise it or be riveted to your seat for the entire two hours. Count me in the latter category.
This definitely is not a charmer. It is a descent into Dante's Inferno without the bulwark of absolute faith to sustain its pilgrims. A glimpse into an abyss that entrances and repels, a dark vision that chills to the bone.
By scale alone, this film outdoes itself. Never have buildings crumbled with such panache, icons tumbled into the sea with greater style, the earth scorched, torn asunder, and split with more symbolic dread. And yet, against all odds, some do survive.
This nostalgic return to an earlier era is also a glimpse of something we are missing now in films. It is a reminder to reject fast paced cynicism for a return to old-fashioned story telling. A reminder of the sweet rewards of innocence, awe, and characters who are real.
Looper (which also starred Emily Blunt along with Krasinki in a smaller role)
Has it come to this? Our cultural rot is on full display. Not so much in this slick and shallow effort, which should by all rights be clawing itself up to mediocrity, but the near universal praise heaped upon it by critics and audiences alike. The Cordon Bleu awarded for Hamburger Helper.
This movie grabs you by the throat and bites you in the neck. World War Zdrops you in the middle of an apocalyptic panic on a quest to find the cure for the ultimate sickness." Junior Critic Triston
Hollywood, the ultimate arcade. Video games, comic books, and now a theme park brought to the big screen in all their slick and superficial glory. Corporate moneymakers that slyly impugn corporate greed while they revel in it.
Remember, rapids occur where the water is swift and shallow. So ride this raging river of thrills, while you remember that is it only still water that runs deep.
The Room meets War of the Worlds. John Goodman, the master of his cozy underground bunker, keeps us on tenterhooks as we wonder if he is Dr. Jekyll or Mr. Hyde.
***
How does A Quiet Place compare to these other films? It captures the loneliness and quiet desperation of Will Smith in I Am Legend. As well as the intricate care required just to survive in this altered world.
We have the claustrophobic atmosphere of 10 Cloverfield Lane, substituting deprivation of sound for deprivation of space.
John Krasinski, who wrote, directed, and starred in the film (another Clint Eastwood in the making?) abandons standard horror tropes as they did in Cloverfield. As Different Drummer said of that earlier film:
We all know the horror standards – the young square jawed scientist and his slim assistant hiding her beauty behind a pair of glasses, the ambitious opportunist hoping to cash in on the new found horror, the unscrupulous guide or his counterpart, the honest one that tries to warn the group away from unseen perils.
Then we have the sense of doom and despair as well of the tenderness of a father for his child(ren) that was captured so well in The Road, where the father sees past the bleak landscape to that fire in the heart. Both fathers search for hope and faith though the world thunders against it.
Like J.J. Adams' homage to Steven Spielberg, A Quiet Place excels in story telling. This new film, almost a nostalgic return to an earlier era, a reminder to reject fast-paced cynicism for a return to characters who are authentic and likable.
Other shared horror aspects were not so subtle.
The monster is "…a total rip-off " from the hit Netflix series, A Stranger Place, according to junior critic Weston, (which is in itself a rip-off from the Alien.)
But we have more on the plot's derivative nature from one critic not falling in line with the Rotten Tomatoes crowd, who generally loved A Quite Place. Of course, you can expect that is the one that appealed most to your own rebel reviewer Different Drummer, although his critique may be a bit too harsh.
His film ends up even more indebted to Spielberg than J.J. Abrams' famously imitative "Super 8," essentially stretching the iconic "Jurassic Park" Velociraptors in the kitchen scene to feature length. There's even a sequence in a silo that evokes the equally recognizable T-Rex vs. Ford Explorer attack – engaging in the moment, utterly pedestrian in comparison to the classic it apes. –J. Olson
So take an hour or so from honking cars, mind numbing traffic, and the cold impersonal world of "high" tech to visit this Quiet Place. Silent, yes, but not even remotely peaceful.
—Kathy Borich
3 1/2 drums
Trailer
Film-Loving Foodie
I'll let the very capable Leigh Kunkel set the scene for our recipe:
One of the opening scenes of A Quiet Place, the new horror film that's a legitimate box office phenomenon, looks like a shot from a hip-but-wholesome Instagram influencer. It could even be the illustration of Gwyneth Paltrow's weeknight dinner tips. First, a whole freshwater fish, surrounded by glossy green leaves and plumes of steam, emerges from an underground smoke pit, where it's been gently roasting over smoldering coals. Then the scene cuts to a family of four sitting around a table. Before them, a spread of harvest-hued roasted vegetables and that same fish, arranged on plates made from what looks to be huge, deep green cruciferous leaves. The burlap tablecloth and colorful placemats could have come from Pier 1, and the rustic wooden drinking vessels might be straight off Etsy. They hold hands for a brief prayer and then dig in.
It only takes a moment to register that something is deeply wrong. There is no clink of cutlery against ceramic, or chit-chat about the characters' days. No music playing in the background, or knives cracking through crusty loaves of bread. Instead, the four diners remain completely silent, communicating by sign language when required, and taking pains to not even pour their water too loudly. The charming tablecloths and placemats deaden the sound of every action to the point where almost nothing registers at all.
Smoked Fish Dip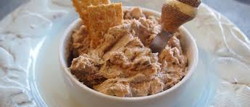 Ingredients
1-1/2 cups crumbled smoked fish
1/2 cup milk
8 oz. cream cheese, softened
1/4 cup finely minced onion
1 stalk celery, finely chopped
1 tablespoon minced fresh parsley
3 teaspoons sweet pickle relish
1/2 teaspoon lemon juice
1 teaspoon Worcestershire sauce
Cayenne, salt and pepper to taste
Directions
Put the smoked fish in a medium bowl and add the milk. Cover and chill for 30 minutes to an hour. Stir in the remaining ingredients. Cover and chill for 2 to 3 hours until flavors have blended. Serve with your favorite crackers.
Basspro.com (Keith Sutton)